A recent news article in the Guardian, based on data from e-Marketer, asked the question 'Is Facebook for Old People?' The article suggested that Facebook is becoming the social network for the over 50s and predicted that younger audiences will abandon the brand in favour of Snapchat. Meanwhile, older demographics, often their parents and grandparents, will continue to join the platform. This month UKOM looks at the age profile and usage of the two social networking services.
When looking solely at audience numbers, Facebook continues to be ahead of the competition, even among 18-24s. In January 2018, UKOM-approved Comscore data showed that Facebook had a reach of 94% among 18-24s online compared to Snapchat's 89%. Impressively, Facebook now has a monthly reach of over 90% among online over 55s as penetration is high among all age groups.
However, when looking at engagement metrics such as minutes and average time spent, the picture looks a little different. Including Facebook Messenger, 18-24s spent on average 640 minutes each month on Facebook compared to 909 minutes for those who visited Snapchat. Average time spent among Facebook users aged over 55 was 539 minutes compared to only 15 minutes for Snapchat's older audience. The demographic biases in 'time spent' and 'penetration' result in the social networks having very different profiles when looking at total minutes by age.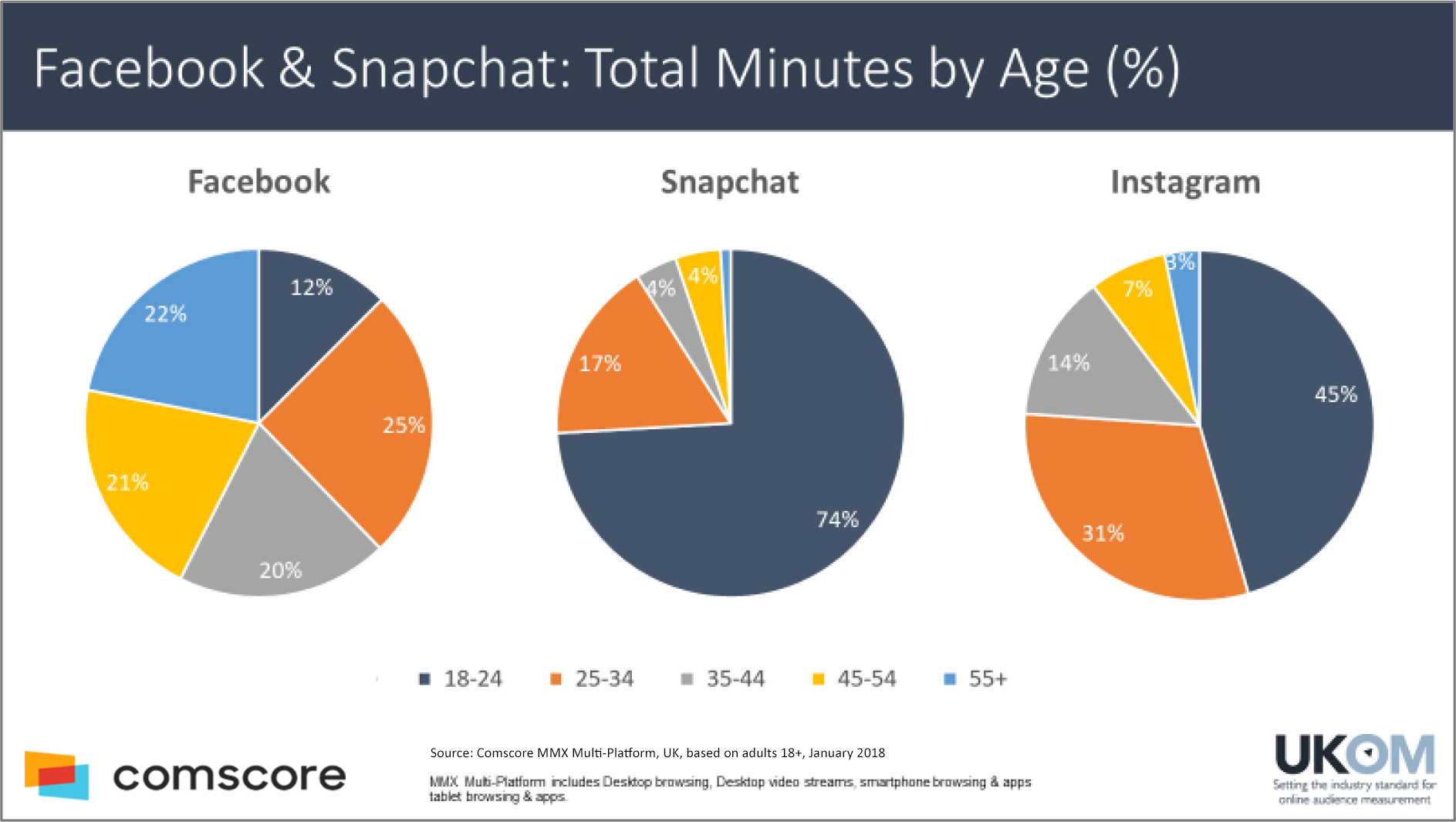 18-24s now account for only 12% of Facebook's total minutes compared to 74% for Snapchat. Over 55s now account for more time spent on Facebook than 18-24s. Whilst adding users from all age groups has contributed to Facebook's growth and success, 18-24s are still one of the most attractive audiences to advertisers and targeting them online is vital as they are increasingly harder to reach via traditional media channels. If time spent is an indicator of which service they are more engaged with and they do move away from the platform, Facebook does own other services which also drive minutes among younger demographics. Over 90% of 18-24s who use Facebook also use Instagram, which the social networking giant bought in 2012. Nearly half of adult time spent on Instagram is generated by 18-24s, who spend on average 330 minutes on the service each month. In addition, the ad-free mobile app, WhatsApp, also drives considerable minutes (2.5 hours per month on average for 18-24s who use it). Combining all three of their major brands – Facebook, Instagram and WhatsApp, means average time spent by the lucrative 18-24 youth audience across all Facebook's properties is still greater than Snapchat's …but the gap appears to be closing!
Notes on Data:
All UK data is based on UKOM industry standard and development level approved Comscore MMX Multi-Platform data. Comscore MMX Multi-Platform includes desktop browsing, desktop video streams, smartphone browsing & apps, tablet browsing & apps for tagged sites & apps. Data cited in this report is based on 18+ monthly users. Facebook data in this report based on the Facebook and Messenger Media Title in Comscore.
*Guardian article referenced here: https://www.theguardian.com/technology/2018/feb/12/is-facebook-forold-people-over-55s-flock-in-as-the-young-leave