Q4 | 2019
Welcome to UKOM's Digital Market Overview for December 2019. Using UKOM approved Comscore data, the DMO shares insights into what the UK Population is doing online by providing a top-line snapshot of audience behaviour each quarter. UKOM has approved Comscore's multi-platform data which reports audience behaviour across desktop, tablets and smartphones. In October 2019 Comscore introduced methodology enhancements resulting in a trend break so analysis this quarter is based on Oct-Dec data.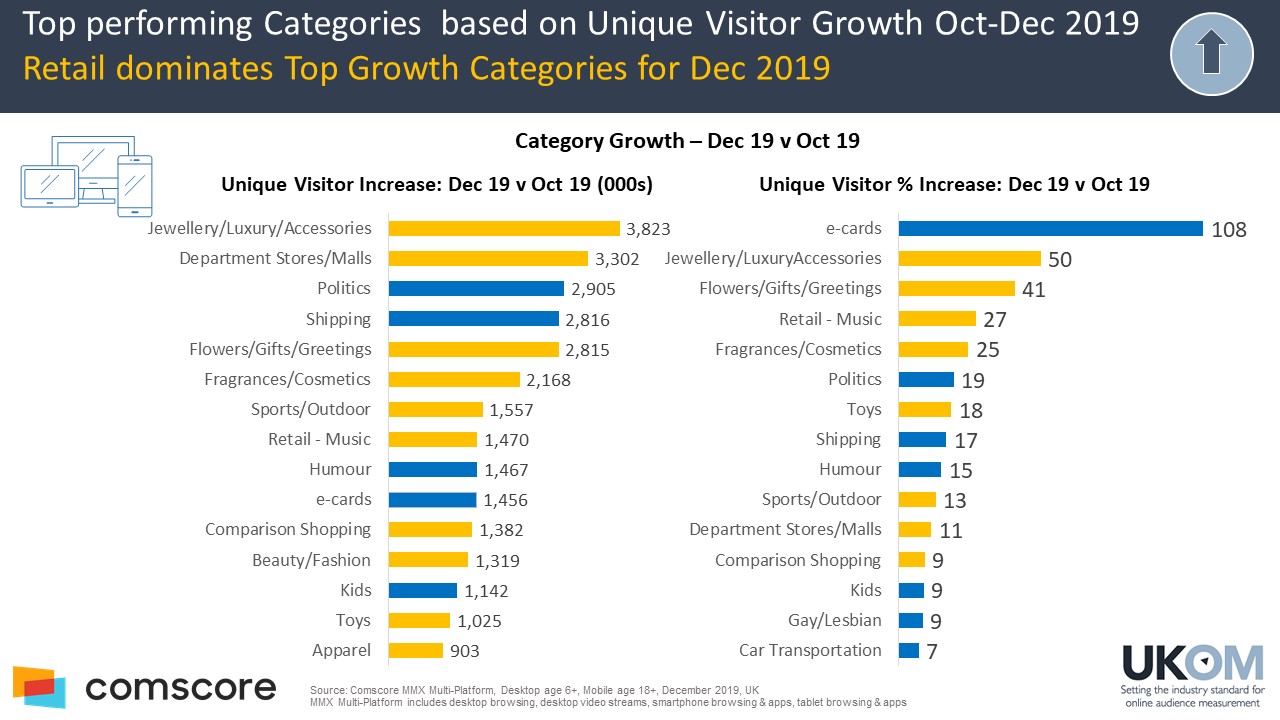 Key findings include:
Online adults spent on average 3 hours 25 minutes per day in December 2019. 18-24s spent most time online with 4 hrs 17mins and females spent on average 22 minutes more than males.


Including tablets, mobile devices now account for 81% of all minutes despite average visit time being much shorter (8min) compared to visits on desktops (29 mins).


Platform share of time varies hugely by category. For example, although desktop only account for 19% of minutes, for Autos Manufacturer sites, this is as high as 77%.


Unsurprisingly, retail sub-categories witnessed most growth in the last 3 months with jewellery/luxury goods, flowers/gifts/greetings and fragrances/cosmetics all adding more than 2 million visitors, an increase of more than 25%.


The General Election fuelled growth of the Politics category which added nearly 3 million visitors between October and December.


The list of properties which added most visitors was also dominated by retailers including high street favourites DSG Retail, Sainsburys, John Lewis, Boots, Next, Tesco and M&S.


Online publications which saw most growth between Oct and December included Independent.co.uk (+3.2m) and hellomagazine.com (+2.1m).
Although retail performed well across all devices, app usage is still low for most retailers. Only Amazon Mobile and Argos added significant app visitors in the last 3 months.


Amazon also saw big increases for other apps – it's Alexa App grew by 1.5 million and Premier League football is likely to explain Prime Video's uplift of 1.4 million unique visitors.


Other apps in the top 200 which added around ½ million unique visitors between October and December included TooGoodToGo, TikTok, Uber and Google Home. ITV's I'm a Celebrity App also added over 1.3m visitors, building on it's November numbers as the show came to a finale.