Q2 | 2020
After producing a series of insight pieces focusing on the impact of Covid-19 on UK internet usage, this month UKOM releases a Digital Market Overview for June 2020. The DMO provides a top-line snapshot on audience behaviour in the month, using UKOM approved Comscore multi-platform data which reports audiences and online time across pcs, tablets and smartphones. This report looks at June 2020 and where appropriate compares data with Jan 2020. Given many categories and properties witnessed significant growth or decline during the lockdown months of March and April, the report also gives an update on those sectors which experienced most change.
June data shows that many sectors which lost visitors such as travel, automotive and property have gained minutes and visitors in June. Conversely, sectors which benefitted most during March and April such as health, government and social networking have started to lose the audience or minutes they gained.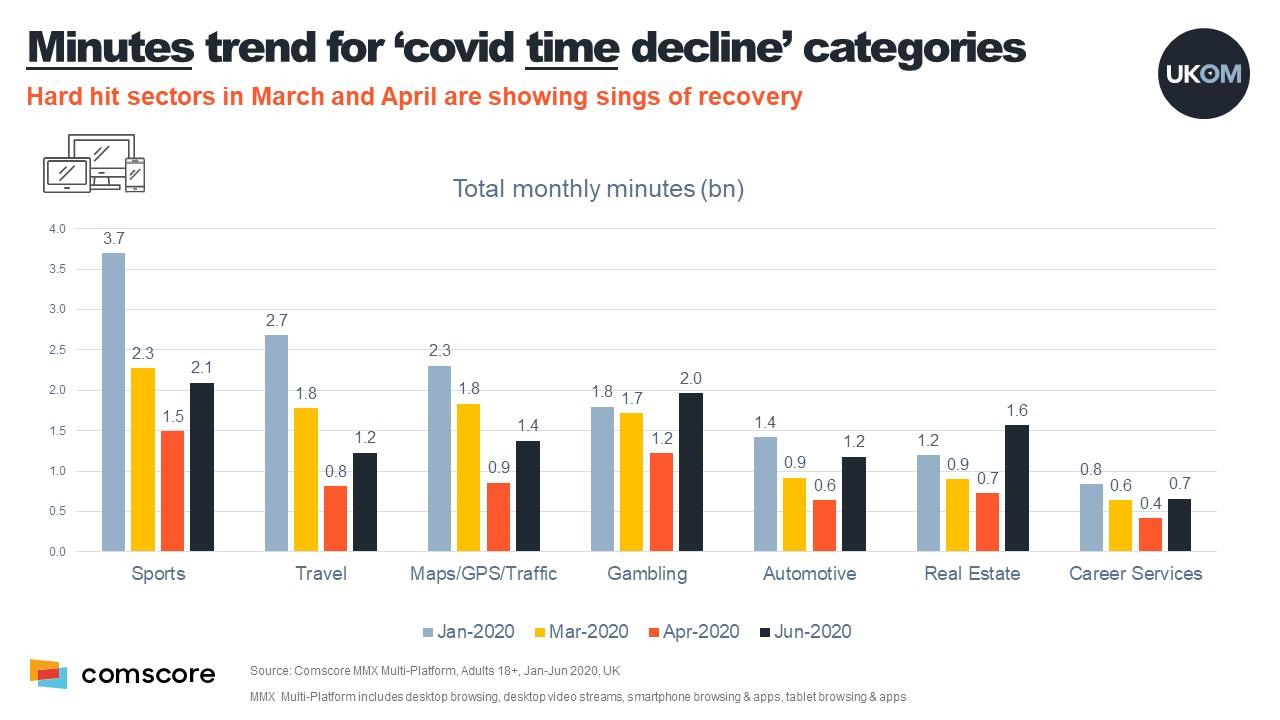 Key findings include:
After reaching a peak of 4h 02m in April, average daily time online per adult dropped slightly in June to 3h 52m but remains high and above pre-pandemic January levels (3hrs 26).


Social media and video chat services have grown significantly over the last 6 months – Zoom alone had 10 million more unique visitors in June than January, making it the property which had the biggest uplift.


ByteDance, owner of TikTok, now reaches over a quarter of UK online adults. Unique visitors were 6.4 million higher in June than January and the property is now the 5th largest for total monthly minutes after Google, Facebook, Spotify and Netflix.


Unsurprisingly 8 out of the top 10 sectors with biggest audience decline between January and June were travel related. However, after losing over 5 million unique visitors in April, the travel sector increased by 1 million between April and June.


The re-starting of the football season has seen an uplift in minutes to the sports category – June's total minutes are 0.6 billion higher than April's - an increase of 23 minutes per visitor on average.


After dropping by 5 million visitors between Jan and April, the property sector is now booming. June's audience is nearly 6 million greater than April's and the audience of over 30 million is higher than pre-pandemic levels. Average time spent time per month among category visitors is now over 52 minutes, compared to only 30 in April and 41 in January.