September 2020
Welcome to UKOM's Digital Market Overview for September 2020. The DMO provides a top-line snapshot on audience behaviour in the month, using UKOM approved Comscore multi-platform data which reports audiences and online time across pcs, tablets and smartphones. This report looks at September 2020 and where appropriate compares data with June 2020. Given many categories and properties witnessed significant growth or decline during the first lockdown the report also gives an update on those sectors which experienced most change between January and September.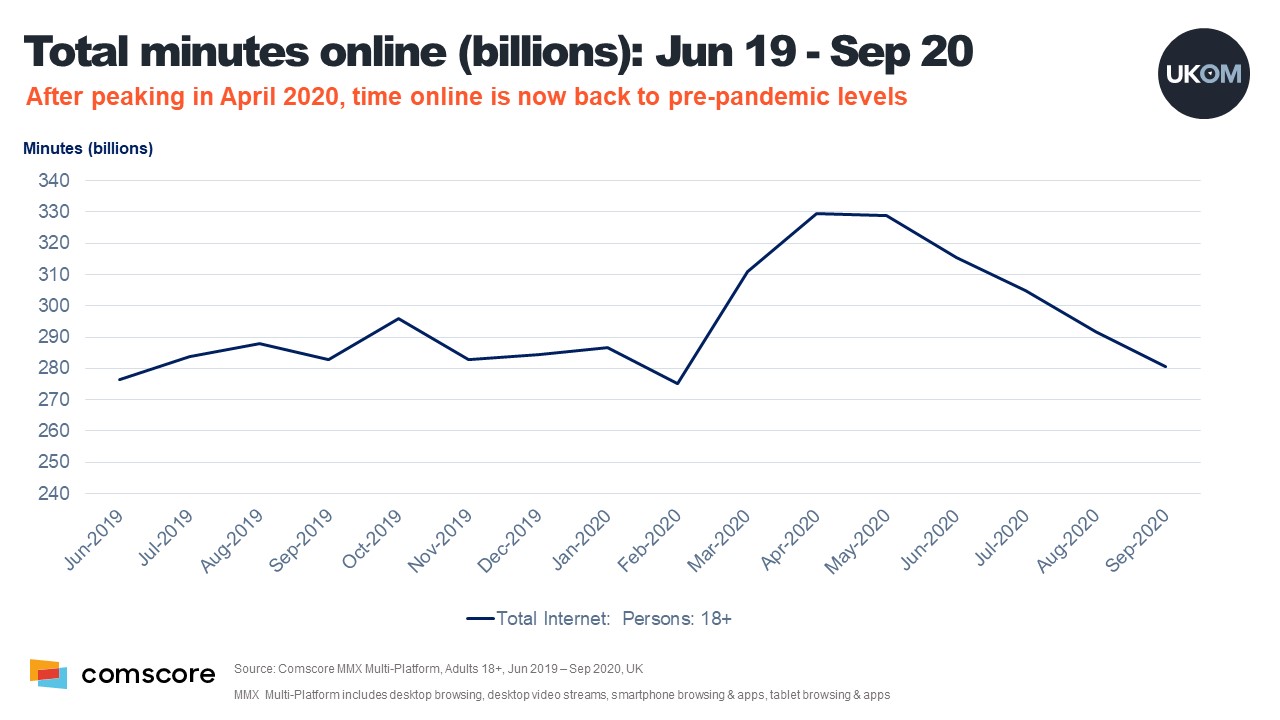 Key insights this month include:
Time online has continued to decline since April 2020 and total minutes in September are back to pre-pandemic levels. The UK online adult population spent 280 billion minutes online in September after peaking at 330 billion during the first lockdown in April 2020.


Average daily time online per adult is now 3hr 26m, down from 4hr 02m in April and 03hr 52m in June. Declines were seen across all age and genders for the last quarter.


Although a minority of categories such as 'tickets' are still way behind pre-pandemic visitor levels, many of those which suffered the biggest losses in April continued their recovery between June and April including travel, property and automotive.


The launch of the NHS COVID-19 contact tracing app on 24th September contributed to an increase for the NHS which overtook Twitter to enter the 'top 20 properties' with 23.4m visitors. UKOM approved data shows the new tracking app had 9.7 million unique visitors in September.


After peaking in March, visitors to government websites started to climb again. The September audience of www.gov.uk was 26 million – that is 57% of all online adults, a gain of 3.6m since June.


Reach and time online increased for the sport category between June and September – Sky's audience alone grew by 3.8m, most likely fuelled by the return of live football.


Finally, the government's 'Eat Out to Help Out' resulted in several food establishments seeing some big online audience increases between June and September, with many unsurprisingly peaking in August. A major beneficiary was Mitchell & Butler which added 2.3m visitors, after growth from many sub-brands including Harvester and Toby Carvery. The Wetherspoon order and pay app also added 1.3m unique visitors between June and September.