Welcome to the January 2022 Digital Market Overview. Using UKOM approved data from Ipsos iris, which launched in 2021, the DMO provides a top-line snapshot of the UK population's online behaviour across pcs, tablets and smartphones.
---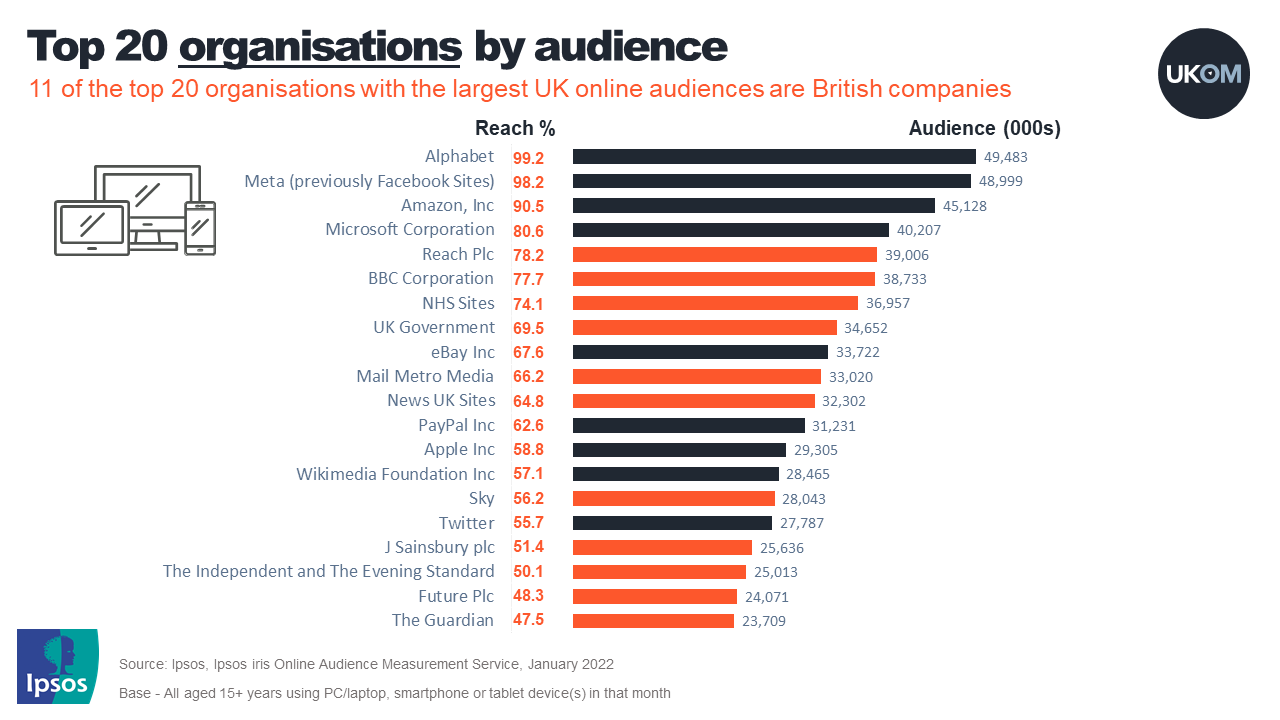 ---
This month Ipsos introduced methodology enhancements including updated universes, therefore this report is based on data from January 2022 only. Whilst the DMO focuses primarily on monthly aggregated data, Ipsos iris also produce daily data which is released 36 hours after day end. Online behaviour can also be analysed by over 400 targets including demographics, geo-demographics, attitudes and media consumption with more being added each month.

Key insights this month include:
Smartphones account for 72% share of online minutes among those aged 15+.


Smartphone share of minutes is lowest among those aged 65+ (45%) as tablet's share among this older group is much higher than average (33% compared to 14% for all 15+).


Content type significantly influences choice of device. The PC is still key for utilities, government, telcos & education whilst for gaming, social networking and health, over 90% of time is spent on mobile devices.


11 out of the top 20 organisations with the largest audiences this month were British. Reach plc (78%), BBC (78%) and the NHS lead the way (74%).


When it comes to time spent on smartphone apps, social media brands dominate as TikTok, Snap and Twitter join Facebook, YouTube, Instagram, and WhatsApp in the top 10.


On tablet devices, video apps drive time online – YouTube, Netflix, BBC iPlayer, Disney and YouTube kids all feature in the top 10 for monthly minutes.


The top-line daily data can provide insight into consumer behaviour around seasonal and topical events. For example:



UKOM's Back to Work Winners analysis showed how finance, fitness & job searching categories all experienced increases on January 4th.


The audience to BBC Sport's tennis channel peaked at 1.4 million on 30th January - the day of the Australian Open Men's final.


Data for the month of February shows that following its acquisition of Wordle, the New York Times website increased its daily UK visitor numbers from under 200K to over 4 million.



The New Year is always a popular time for job hunting - over half the UK online population visited career services in January. New iris attitudinal data shows that this was particularly the case for those who are finding it difficult to balance work, children and social life. They were much more likely than average to visit all 10 of the top online career brands.
Read more or download the whole report below: