Q1 | 2019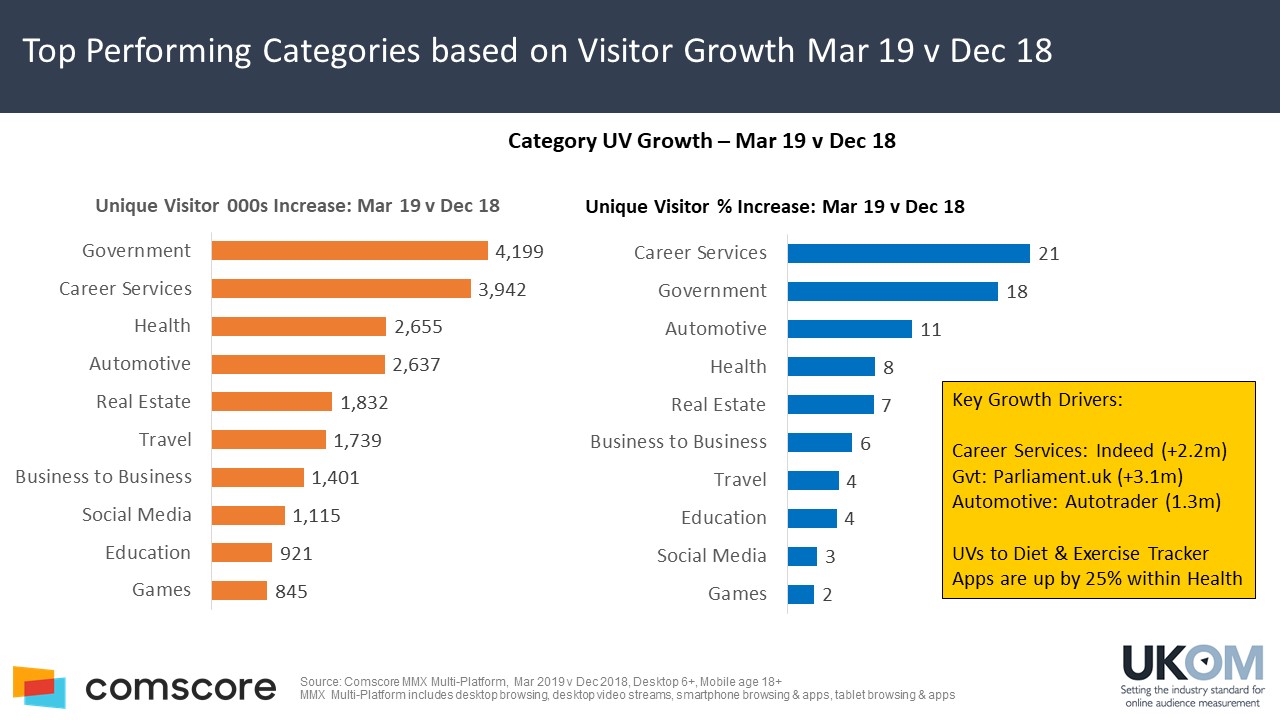 Key insights this month include:
The 'mobile only' audience continues to grow and now stands at 34% among all adults with Multi-Platform accounting for 62% and a minority – just 4% only using a desktop or laptop. The desktop only audience is higher among over 55s (8%).


Time spent on mobile apps is up by 6% since December – mobile apps now generate 65% of all online minutes across pcs, tablets and smartphones but this masks huge variations by category.


The top 20 mobile apps in terms of unique visitors are all global – BBC iPlayer is the highest ranked British app at no.23 among all adults with 7.2 million viewing on a PC or mobile device. Netflix, Spotify and eBay have all seen uplifts in mobile app minutes since December.


Most other changes since December are driven by category seasonality. Categories with significantly more visitors include Government, Automotive and Career Services. Major growth brands within these sectors include Pariament.uk (+4m), Indeed (+3.1m) and Autotrader (+1.3m). Rightmove and TripAdvisor have also witnessed uplifts of around 3m unique visitors since December whilst visitors to Health and Fitness Tracker Apps are up by 25%. Conversely, properties which have seen the biggest losses tend to be in the retail sector with John Lewis, DSG Retail, Boots, Asda and Sainsburys (including Argos) all declining significantly after the festive season.