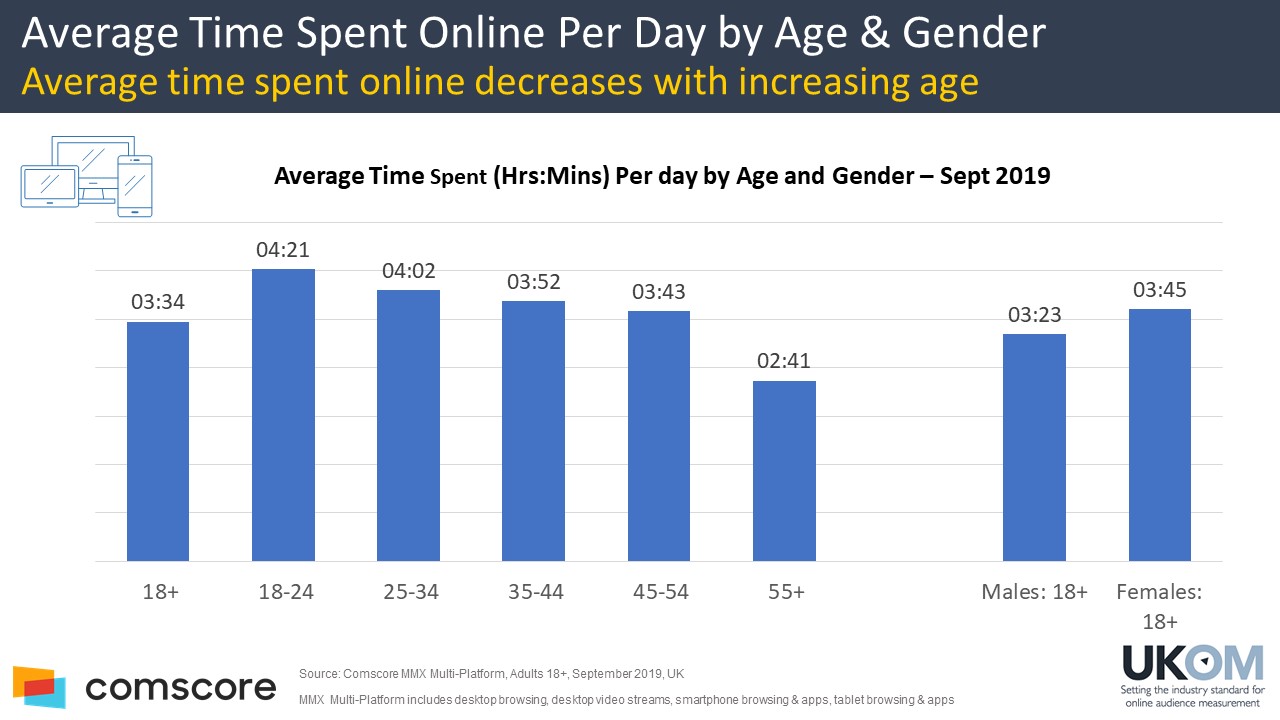 Key insights this month include:
Mobile's share of time online continues to grow, up from 78% in June to 81% in September – driven by smartphones (up from 67% to 71%).
Online adults spent on average 3hrs 34mins per day in September 2019. Time spent decreased with increasing age from 4hrs 21mins for 18-24s to 2hrs 41mins for 55+ internet users.
The % of adult internet users who only use a mobile device (tablet or smartphone) has remained at 35% but this is higher among females (39%) than males (31%).
Females spent more time overall online than males (3hrs 45mins v 3hrs 23mins) which is driven by higher time spent on mobile devices. Women spend 3hrs 20mins per day on a mobile device compared to only 2hrs 45mins for men whereas males spend 18 minutes longer on desktop/laptop pcs than females.
Platform share of time varies by category. Although tablets only account for 10% share of total time, this is more than double for Kids (26%), General News (22%), Entertainment (21%) and Family & Youth services (20%).
9 of the top 10 mobile apps in terms of unique visitors are owned by Google or Facebook but when looking at time spent, Netflix, Spotify, and ebay enter the list and top tablet apps also include ITV, BBC and All4.
Finally, on 25th September, Nintendo released racing mobile game 'Mario Kart Tour' and by month end, Comscore data showed that 1.8m UK adults had accessed the mobile app – making it one of the best performers outside of the top 10.