Q4 | 2017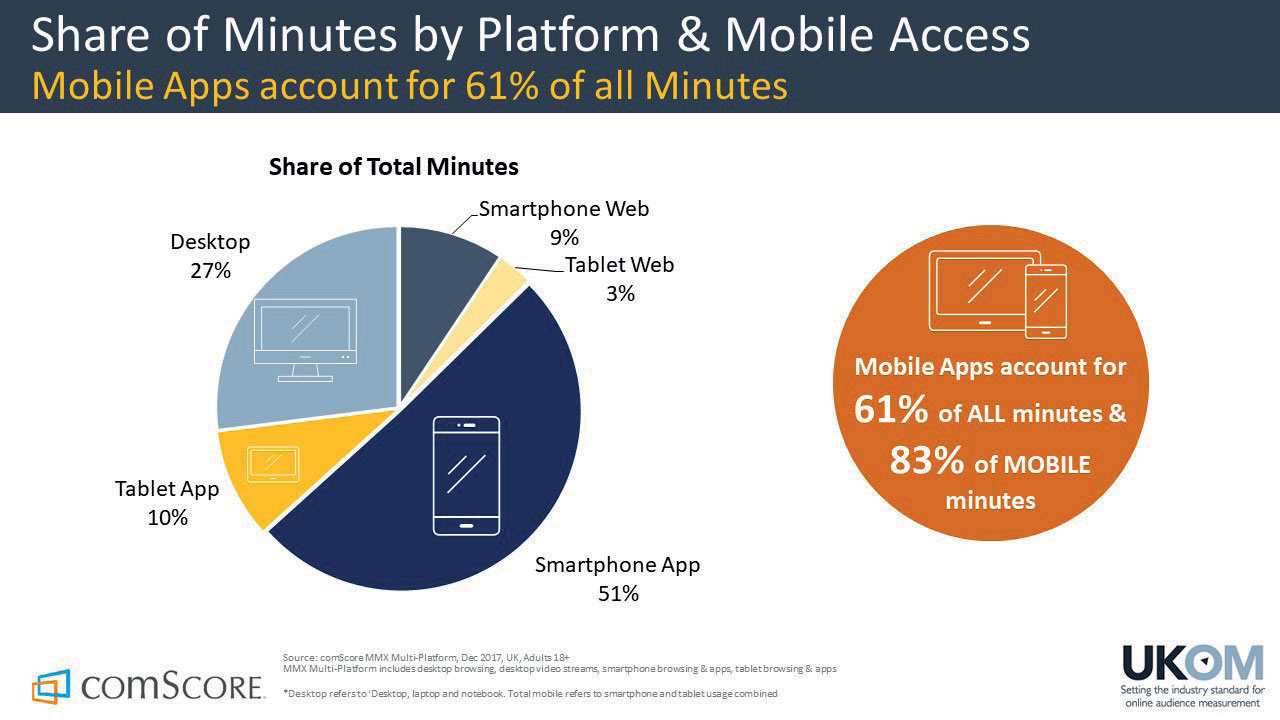 Key insights this quarter include:
Mobile devices (smartphones and tablets) now account for 73% of all adults' time online. More adults now go online via a smartphone than a desktop or laptop.
Mobile apps account for 61% of ALL minutes and 83% of MOBILE minutes.
Mobile share of time is higher among females (81%) than males (65%). Parents, millennials and lower social grades all spend a greater than average share of time on mobile devices.
Compared to September 2017, of the top 20 sites, Trinity Mirror, Sky, Wikipedia, Snapchat & Paypal all experienced unique audience growth of between 8-10%. Despite having a reach of over 80%, Amazon still added over 2 million visitors between September and December, a growth of 5%.
Traditional retailers who saw big audience gains online during the festive period included Home Retail Group (+4.5 million), Boots (+3.5m), John Lewis (+3.3m), Debenhams (+ 2.5m) and Tesco (+2.2m).• A related category which performed well was shipping. Royal Mail was the major beneficiary (+1.8m) but Hermes, DPD, Post Office & Parcel Force all saw their audiences grow significantly in the month of December.
In addition to Snapchat, which attracted 1.7m more online adults between September and December - an 8% increase, Pinterest was the other big 'social' winner. Pinterest grew by over 1 million unique visitors, giving it an audience of 15.2 million in December – over 1 in 3 adults now visit the site each month.
Finally, the mobile app which grew most in % terms between September and December was…'A Call from Santa' - over 1 million adults viewed the app in the run up to Christmas!