Q2 | 2018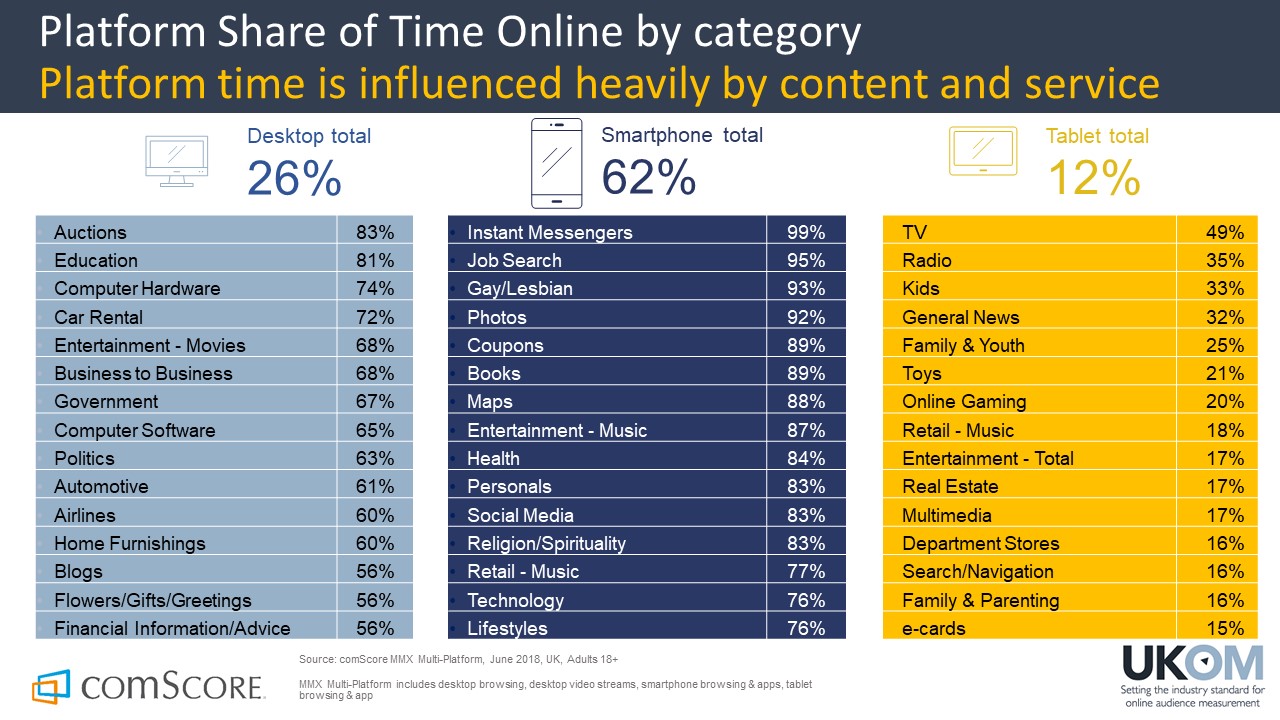 Key insights this quarter include:
Mobile devices (smartphones and tablets) still account for 75% of all adults' time online with smartphones taking the lion's share of minutes (62%).
However, platform time is influenced heavily by content and service. Whereas smartphones account for over 80% for categories such as messenger, social media, maps and personals, the desktop/laptop dominates time for auctions, education, B2B, airlines and financial Information.
29% of online adults are now mobile only, meaning they do not use a PC to access the internet but only use tablets and/or smartphones. This is up 2% points since March.
The top 10 Mobile and Smartphone apps are all owned by global brands. Ebay and Snapchat are the only 2 top 10 apps not owned by Google or Facebook.
Entertainment apps and UK brands feature in the top tablet apps for time spent: Spotify, BBC iPlayer, Netflix, ITV Hub and Sky Go all drive tablet minutes.
Despite negative press, Facebook's audience continued to increase with Instagram alone up by 7% since March 2018 and an additional 1.1m using the Facebook mobile app.
Of the mobile apps, ITV Hub performed well adding 1.8m since March. The World Cup, Britain's Got Talent and Love Island may have contributed to these uplifts. The ITV Love Island App alone had 1 million viewers by the end of June.
Two of the biggest unique visitor % growth categories this quarter can also be explained by the World Cup: Online gambling (up 16%) and Sports/Outdoor Retail (up 14%).
Finally, on 18th June, Google launched its new music app in the UK, YouTube Music. By the end of June, it already had over 1.1 million users.