Eleni Marouli has picked 5 surprising findings exclusively for UKOM from Online Nation, a new annual report from Ofcom. What are people doing online? What are their attitudes to, and experiences of the internet? Online Nation brings together all the relevant research into a single place, aiming to act as a data- and insight-driven resource.
1. Google and Facebook top time spent online, but overall UK audiences have a varied online 'diet'
People spend around a third of their online time on Google and Facebook properties. In the UK, there are 14 properties on which internet users spend, on average, more than a minute a day, but overall, people have a varied online diet. In fact, 43% of people's daily online consumption is on websites and apps that are not among the top 40 properties. Just over one in five internet users said that in the past month they had used 'lots of websites or apps they've used before' while a third (36%) said they 'only use websites or apps they've used before'.
Average share of time spent online per day by adult digital population, split by property: September 2018 (hours: minutes)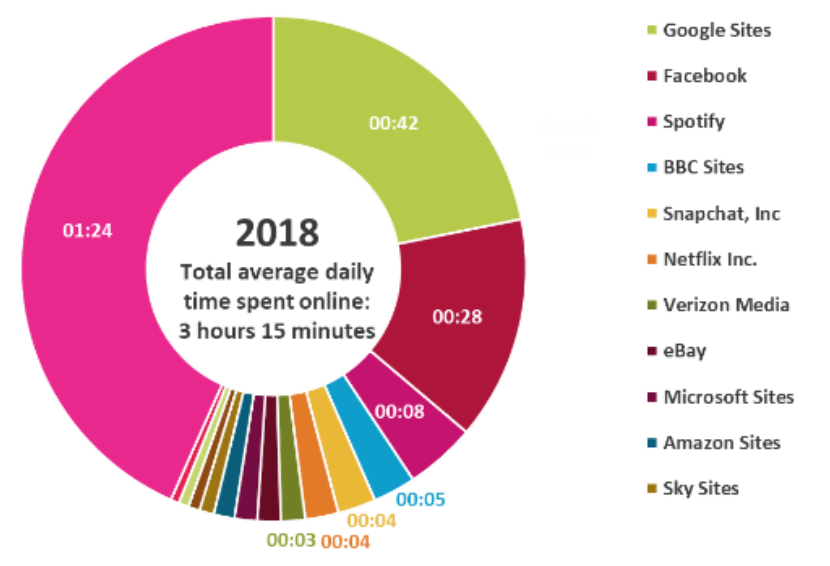 Source: Comscore MMX Multi-Platform, Age: 18+, Sep 2018, UK­­­
2. Facebook use is down, but still accounts for a large share of people's social media time
As WhatsApp and Instagram grow their footprint in the UK, Facebook use has declined in popularity, with 88% of adults saying they used it in 2018, compared to 96% in 2015. However, time spent on Facebook remains high, and on average, social media users spend more time on Facebook than any other social media platform, excluding YouTube.
Facebook (incl. Messenger) users spend an average of 23 minutes using the service each day. While this is down from 39 minutes in 2015, this is more than twice as long than the time spent on Snapchat, the next most popular social media platform in the UK (9 minutes a day).
Average time spent per user each month/day on social media in the UK: September 2018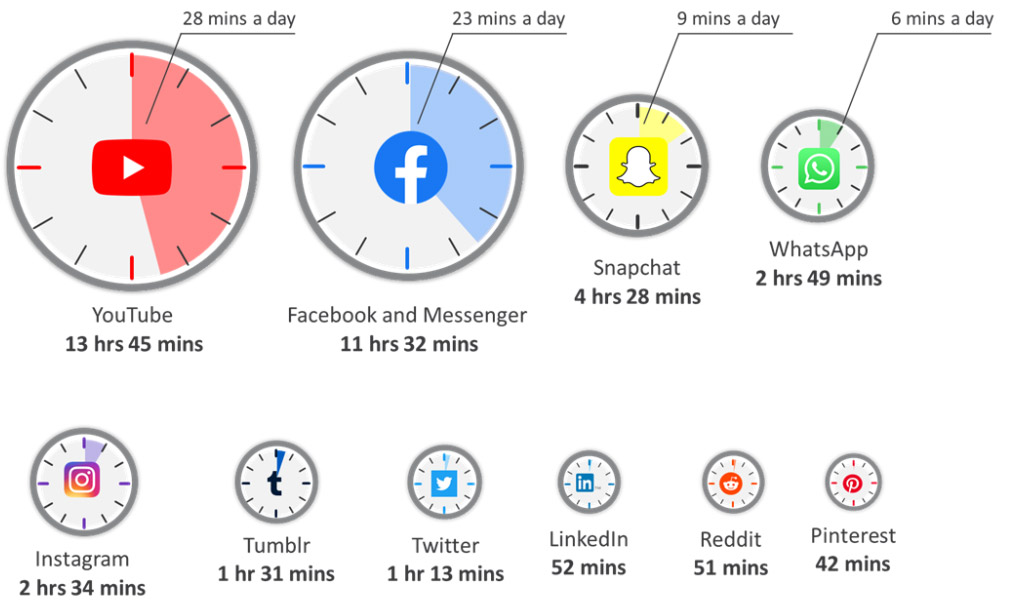 Source: Comscore MMX Multi-Platform, Age: 18+, Sep 2018, UK. Size of clock represents relative time spent, while segment represents minutes spent each day.
3. Despite the growth in online services, 13% of people still don't use the internet in the UK
Incidence of non-use of the internet, by demographic group

Source: Ofcom Adults' Media Literacy Tracker 2018
IN1. Do you ever go online? (unprompted responses, single coded)
Base: All adults aged 16+ (1882 aged 16+, varies by demographic)
Arrows show significant differences (95% level) by age/ socio-economic group compared to all adults
In 2019, 13% of adults said they did not use the internet. This has remained unchanged since 2014. People over 54 are less likely to use the internet than those who are younger (19% for 55-64s, 33% for 65-74s and 48% for those aged 75+). Working-age adults in DE socio-economic group households are more than three times as likely as those in non-DE households to be non-users of the internet (14% vs. 4%). The main reason for not going online is the perceived lack of need for the internet, cited by 47% of respondents.
4. Voice technology has not revolutionised the way we look for content online…yet
Sources used to search for things on the internet, proportion of all respondents (%)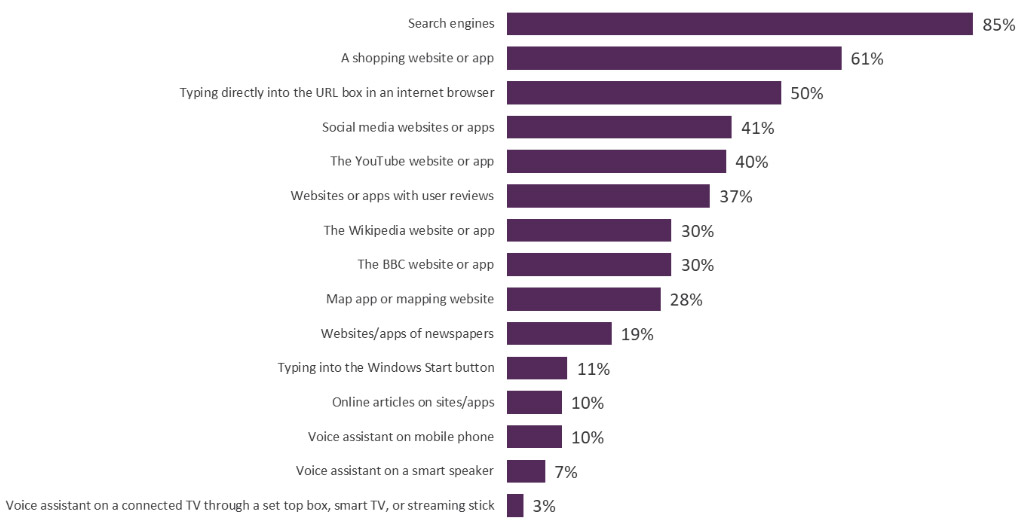 Source: Ofcom Search questionnaire 2019
Question: Q2. Which of the following do you use to search for things on the internet? (THIS INCLUDES ANY TYPE OF SEARCH FOR ANY TYPE OF INFORMATION OR CONTENT)
Base: UK adults aged 16+ (2131)
While almost all (97%) internet users still use search engines to look for things online, a variety of other services are also used. Nearly two-thirds of people (65%) say they go more often to 'specific sites to find specific things' than they did a year ago, for example visiting a news site for news stories, or a video site for videos.
UK households are increasingly adopting smart speakers; in 2019, 20% of UK households had a smart speaker, an increase of seven percentage points since 2018. However, only 7% of all UK adults said they used voice assistant technology on a smart speaker to search for things online. Of those who, in the past year, had asked a voice assistant or smart speaker to discover new things, nearly three quarters (73%) said they used it more than a year previously.
5. Most consumption on video sites/apps in the UK continues to be of music videos
Video accounts for the majority of UK internet traffic in 2017, at 70% of data transferred, including activities such as streaming TV and video, as well as making video calls and online gaming.
The top reason for consuming online videos in 2018 was to watch music videos - 62% of those who watch videos on sites or apps like YouTube, Vimeo, Snapchat or Facebook say they do this. Another common reason for watching videos on these platforms is to watch 'how-to' videos, with 57% claiming to do this in 2018.
Type of video content consumed online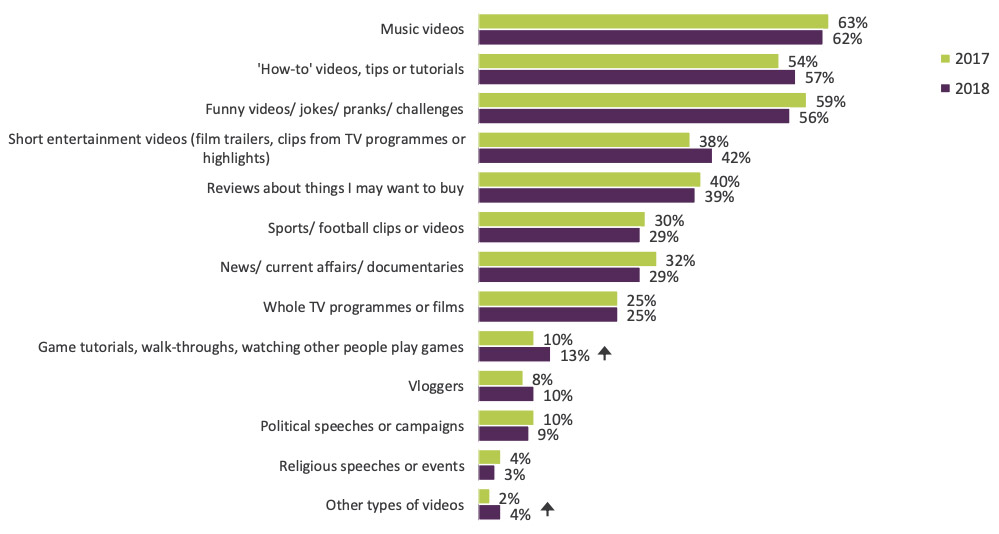 Source: Ofcom Adults' Media Literacy Tracker 2018
IN19B. (SHOWCARD) And what types of videos do you tend to watch on these sites and apps? (MULTI CODE) Base: Those who ever watch videos on sites or apps like YouTube, Vimeo, Snapchat or Facebook Arrows show significant changes (95% level) between 2017 and 2018
Eleni Marouli led the Online Nation project and is the Head of Market Developments in the Market Intelligence Team at Ofcom