UKOM has recently launched a new series of weekly 'Closer Look' charts which showcase the different analysis and reporting capabilities of the Ipsos iris data and interface. These are available for free to anyone who follows UKOM on Twitter at @UKOMAPS. This week's chart focuses on 'profiling' and illustrates how brands can use one or many of over 400 variables available within Ipsos iris to understand how their audience compares with competitors.
The chart below plots how a selection of online media brands compare on two different variables:
1) the % of audience aged 15-24 (x-axis) and
2) the % of the audience who agree that 'celebrities influence my product purchases' (y-axis).
The results make interesting reading.
---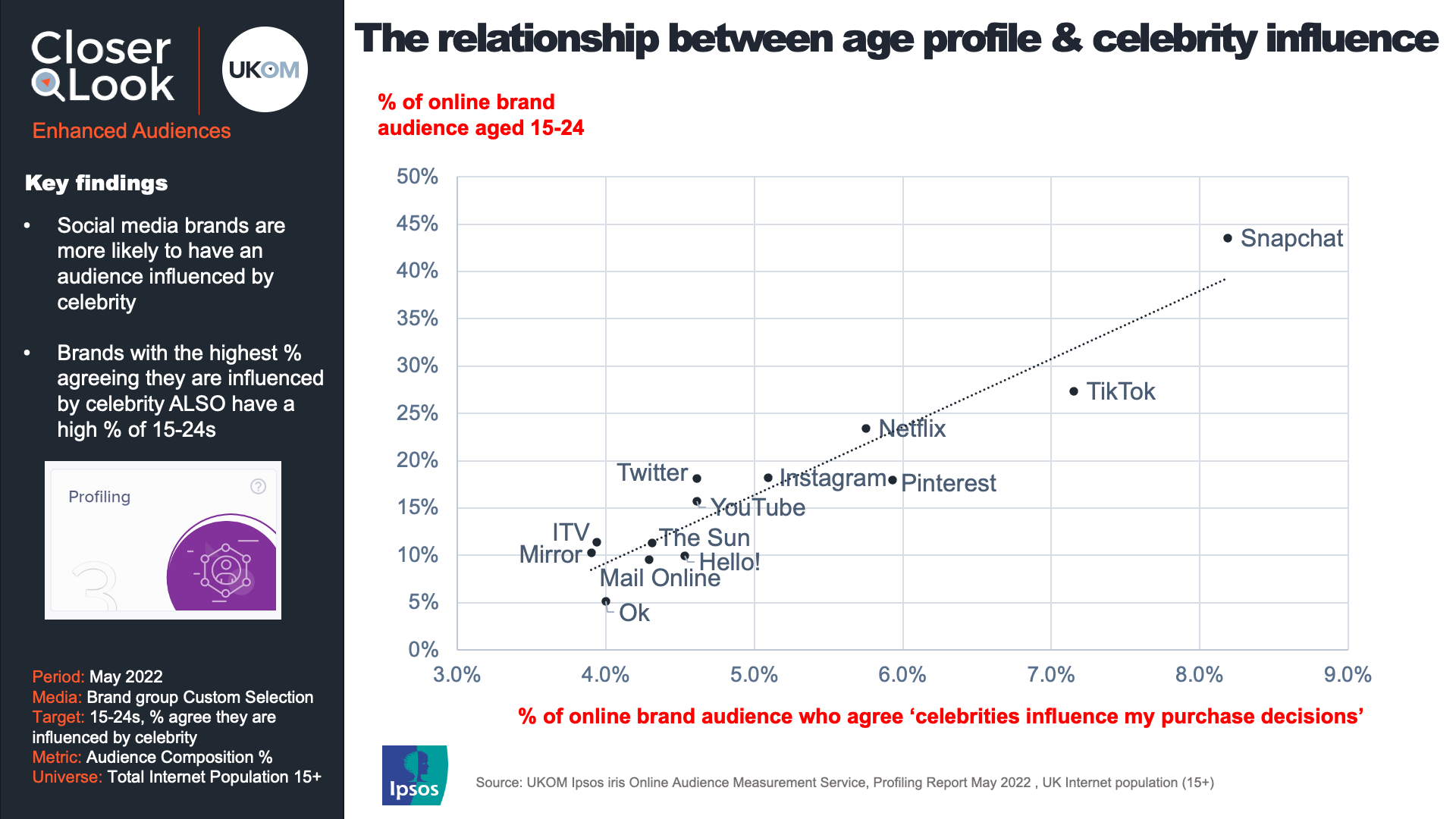 ---
The social media brands tend to have a higher audience percentage who agree their purchases are influenced by celebrity. Snapchat has the highest at 8.2% followed by TikTok at 7.2%. Brands traditionally associated with celebrity content, such as OK magazine and Hello!, have a much lower percentage with OK less than half of Snapchat at just 4%. This could be attributable to the volume of celebrity endorsements within social media and/or the trend that influencers are becoming so well-known they are now considered to be celebrities.
However, when looking at the age profile of the selected media, there is another hypothesis. The brands with the highest % of 15-24s typically have the highest % of those agreeing they are influenced by celebrity. Traditional media brands such as ITV, Mirror, The Sun, OK and Mail Online all have strong celebrity content, but their audience profile is older: between 5-12% are aged 15-24 compared to 44% for Snapchat. The line of best fit on the chart suggests that there is a strong relationship between age of audience and agreement with the statement 'Celebrities influence my purchase decisions'. It may be that younger audiences are just more willing to admit they are influenced or that they have just grown up with celebrity culture so are more accepting of seeing products endorsed by well-known names.
Given its broad and representative coverage measuring what the UK population is doing online, UKOM endorsed Ipsos iris data can show how thousands of online brands compare on this and many other lifestyle statements. For example, Money Saving Expert, which one could argue is solely about shopping and product advice from Martin Lewis, has a very low audience % who agree their purchases are influenced by celebrity at only 3.6%. Conversely, the fashion brands I SAW IT FIRST (15.3%), Pretty Little Thing (13.9%) and Zara (13.3%), which all have very young audiences, have double digit percentages.
The wealth of attributes in Ipsos iris enables brands to understand their audiences beyond solely demographics. Whether it be the influence of celebrity, attitudes to money or how health conscious they are, lifestyle data combined with online behaviour and demographics can provide brands with richer information about audiences and how they change over time. If you would like to know more about UKOM please click here or follow us on twitter at @UKOMAPS. If you would like to know more about Ipsos iris please click here
Source:
Ipsos iris Online Audience Measurement Service, May 2022.
Base = all aged 15+ years using PC/laptop, smartphone or tablet device(s).